School and Village History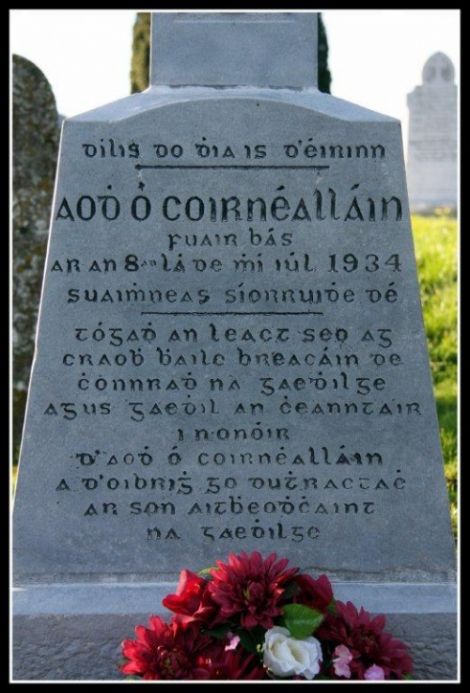 Aodh Ó Coirnéalláin's restored head stone.
Restoration of Head Stone 2012
An historic head stone in our locality was restored with the combined efforts of the BDCC, Fingal County Council and local community members such as Dessie Flynn. The head stone belongs to Aodh Ó Coirnéalláin who died on 8th July, 1934, a member of the local Gaelic League.
alscadden Village
Balscadden Village is said to derive its name from the gaelic Baile na Scadán - The Town of the Herrings. This is very unusual because the village is situated at least two miles from the east coast . Local tradition relates that in days gone by herrings were transported inland from a small fishing port, in the townland of Bremore, commonly called Balscadden Bay or Cromwell's harbour. The fish was prepared at Balscadden village for transportation to the Dublin market.
Saint Benignus, Patron Saint of Balscadden National School
When the new Balscadden National School was officially opened on 26th February, 1986, Saint Benignus was re-dedicated as the patron saint of the school. Indeed no history of Balscadden is complete without the story of Saint Benignus. He was reputedly born in the Balscadden area. A Chronicle of Irish Saints relates that when Benignus was very young Saint Patrick visited his father Sesegne on the banks of the river delvin and that Benignus followed Patrick when he rested and generally befriended him. So impressed was Patrick by the boy's devotion that he allowed Benignus to accompany him on his mission, serving later as his psalm singer. Benignus later succeeded Patrick as Bishop of Armagh. Benignus died around 67 AD. One story relating to Benignus is recorded in the Tripartite life of Patrick. Saint Patrick and his followers were travelling from Slane to Tara. They were interpreted by soldiers of King Laoghaire. However, the soldiers only saw a herd of deer pass with a little fawn following. This miracle is attributed to Saint Benignus.
Balscadden Church
The original church in Balscadden was built in 1412. However, it was destroyed by soldiers lead by Oliver Cromwell during his reign of terror. The present church was built in 1819 at a total cost of ₤500, as a symbol of the Balscadden community's resilience and determination. Today, its quaint rustic nature makes it a popular venue for weddings. The church is also important to the school. It is used on an annual basis for communions and the traditional end of year/community mass. It has on occasion been used for confirmations.
Balscadden's Schools
The new Balscadden National School was officially opened on 26th February, 1986. It was the third primary school to be built in the village. The new school was pre-existed by temporary prefabricated buildings erected in 1967, following an increase in pupil numbers. The original or 'old' school is still used as a community centre in the village.

St Benignus NS, Balscadden, Ring Commons, Balbriggan, Co. Dublin 01-8412579